About Digital Theory
Digital Theory is a Toronto-based management consulting firm founded in 2006 by senior media executive and lawyer, Kate Hanley. Our network of best-of-breed experts delivers cutting-edge research, digital business model innovation and strategic planning to corporate players and government at all levels.
Contact us
Digital Theory Media Consulting
91 Crawford Street
Toronto, Ontario M6J 2V1
Tel: (416) 722-4996
Email: info@digitaltheory.ca
---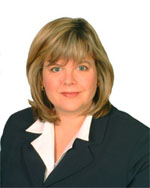 About Kate Hanley,
B.A., J.D.,


President.

Kate Hanley, President of Digital Theory Media Consulting is a lawyer and management consultant with over twenty years executive experience in the media and communications industries. She works with corporate players, cultural organizations and government agencies to build effective strategies for the digital economy. Areas of expertise include public policy development, media and entertainment corporate strategic planning and executive skills development.

As a media and entertainment executive, Kate Hanley has held senior positions in broadcasting, magazines, book publishing and multi-platform production. She was most recently President of Women in Film and Television. There she led all policy affairs and oversaw Canada's first national film, television and digital media employment and skills study. She developed over three hundred hours of industry training annually and established the province's media business certification program, delivered in partnership with the Schulich School of Business.

As Vice President, Programming and Business Development for the Jim Pattison Trade Group, Kate headed the multi-platform development team for the organization's content division which included digital cinema, online merchandizing, image sales and DVD production.

As Director of Strategic Planning and Business Development for management consulting firm NextMedia, Kate oversaw business strategy and policy development for leading media players including HMV Canada, The Canadian Private Coping Collective, SOCAN, Family Channel, APTN and the Ontario Association of Broadcasters. Prior to that she was Director of Business Development at S-Vox where she led the broadcaster's multi-platform revenue operations including affiliate marketing, online distribution and integrated media partnerships.

Kate is former Chair of the Entertainment, Media and Communications Section of the Ontario Bar Association, Past Chair of the Women in Film and Television-Toronto Board of Directors and former Chair of the National Corporate Committee for Unicef Canada. Kate holds a B.A. from York University and an LL.B. from the University of Western Ontario Law School.



Selected Appearances
Monetizing the Revolution, Digital Content Business Models - 2011
Keynote Speaker - Digital Convergence Executive Program
Disruption Theory and the Digital Revolution - 2011
Keynote Speaker - Digital Convergence Executive Program
The Impact of Digital Media on Current CRTC Television Policy - 2011
Guest Lecturer - University of Ontario Institute of Technology
Exploiting the New Digital Content Value Chain - 2010, 2011
Guest Lecturer - The National Screen Institute, Global Television Program
Exploiting the New Digital Content Value Chain - 2010
Keynote Speaker - Telefilm Canada Multi-Platform Multi-Success Event
Distributed Video: Re-Inventing Online Production Financing - 2009
Speaker - Insight Information Entertainment Industries Conference
NextMedia, Banff Conference - 2009
Guest Panelist - "Revenue Generation Know How for Producers of Multi Platform Digital Media"
Film Nova Scotia Business Issues Program 2009 – Producing for the Global Marketplace
Conference Moderator
NextMedia Monetizing Digital Content Conference - 2008
Panel Moderator - "The Economy of Engagement - Branded Online Content"
Banff New Media Institute- CWC Digital Media Accelerator Program - 2008
Faculty Lecturer - "Strategic Digital Media Assessment for Traditional Media Players"
The Playback Innovations Forum - 2008
Keynote Speaker - "Online Content Syndication - Recreating Mass Media Online"
Digital Theory Executive Learning Series- Broadcast Strategies for the Digital Domain - 2008
Keynote Speaker - "International Digital Media Trends"
Digital Theory Executive Learning Series- New Digital Business Models for Broadcasters - 2008
Keynote Speaker - "Vertical Ad Networks: Putting the Network in the Net"
Film Nova Scotia Business Issues Conference - 2008
Keynote Speaker - "The Future Media Environment for Film and Television Producers"
Recent Publications (click to read)
Revenue Generation: Online Syndication, Bell Broadcast and New Media Fund Revenue Generation Bliki, May 2009,
Super Distribution: Smart Content Players are Taking Their content Off-Site and Racking Up Audiences and Ad Revenues, Playback Magazine, November 2008
American Heavyweights On the Move in the Digital Domain, Broadcast Dialogue Magazine, May 2008
Media Moguls Mean Business Online; Playback Magazine, May 2008
D-cinema Opens Up a world of Opportunities; Playback Magazine, March, 2008